Is Your Menu Meeting Today's Restaurant Consumer Demands of Online Convenience, Healthy Options, and Price?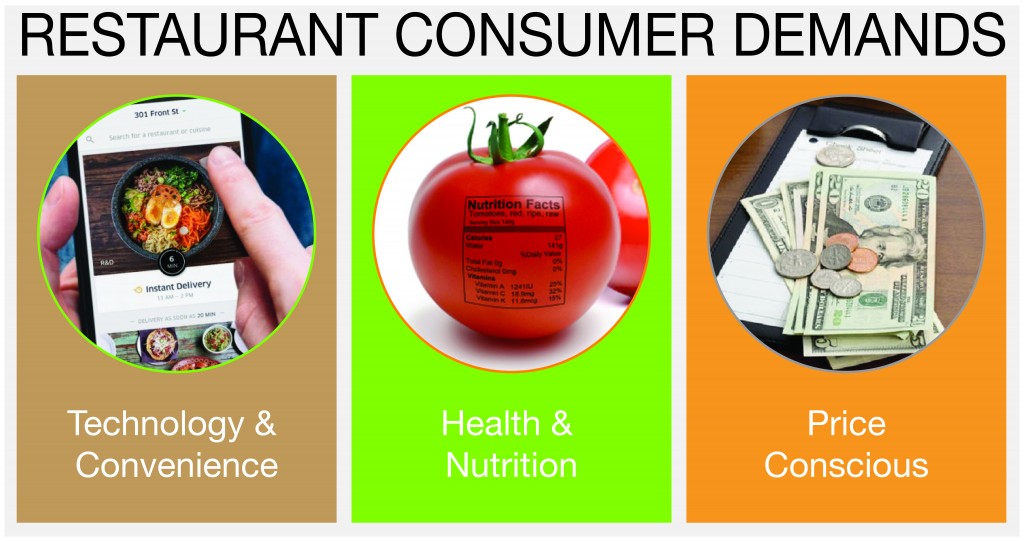 As you analyze your business and forecast of the trends for the remainder of 2017, there are several questions that you may be asking yourself. As restaurants have a greater and greater online presence with delivery services and online ordering as well as increased concern about healthy diets and where our food comes from, knowing what market factors to focus on and what trends in your customers' behavior to focus on can be a tricky matter. One key question is, is your menu meeting today's consumer demand?
Some of the most important factors according to forecasted 2017 trends include robotization, the growing focus on whole food ingredients, and a balance between convenience, novelty, and price.
Technology 
Customers are looking for convenience. Increasingly,  this is taking the form of app and online menus, being able to order ahead while still customizing orders, and even delivery services like GrubHub and DoorDash. Additionally, consumers frequently turn to review sites and restaurant websites to decide which restaurant to visit. It is critical to establish an online presence. At a minimum, you need a site that is mobile-friendly, easy to follow, and functional. However, you will also want to ensure that your business has online reviews, and, if it's in your business model, is accessible to customers through those online delivery services.
Health
Whether it's a fad,  a temporary trend, or a long-term move towards whole foods, fresh ingredients, and healthy options, most consumers are increasingly educating themselves about nutritious options, healthy alternatives, and organic or non-GMO ingredients. This can impact your food costs as the healthiest, freshest ingredients are often the most expensive. If you focus on a market that cares about these healthier options, knowing how to plan based on an operational analysis is critical to reducing food waste and additional expenses.
Price
Being concerned about the bill is not a new trend for 2017. But increased uncertainty has led to many middle- and lower-class customers thinking about cheaper alternatives and cooking at home when possible. Though upper-middle class and upper-class patrons are not expected to be as affected, be sure to keep in mind how price increases are noticeable and can drastically impact consumer behavior. Depending on your business model, cultivating alternatives and additional options can help keep the menu price the same while giving your customer the convenient options and customizations they crave in order to make sure your business continues to profit and grow.
The restaurant business is constantly changing and our consultants at TRG can help you react to the shifting preferences and consumer trends throughout the rest of 2017 and beyond. Please contact us at TRG Restaurant Consulting  if you'd like to learn more about how the restaurant business as a whole is evolving and what we can do to work together and make your restaurant thrive.