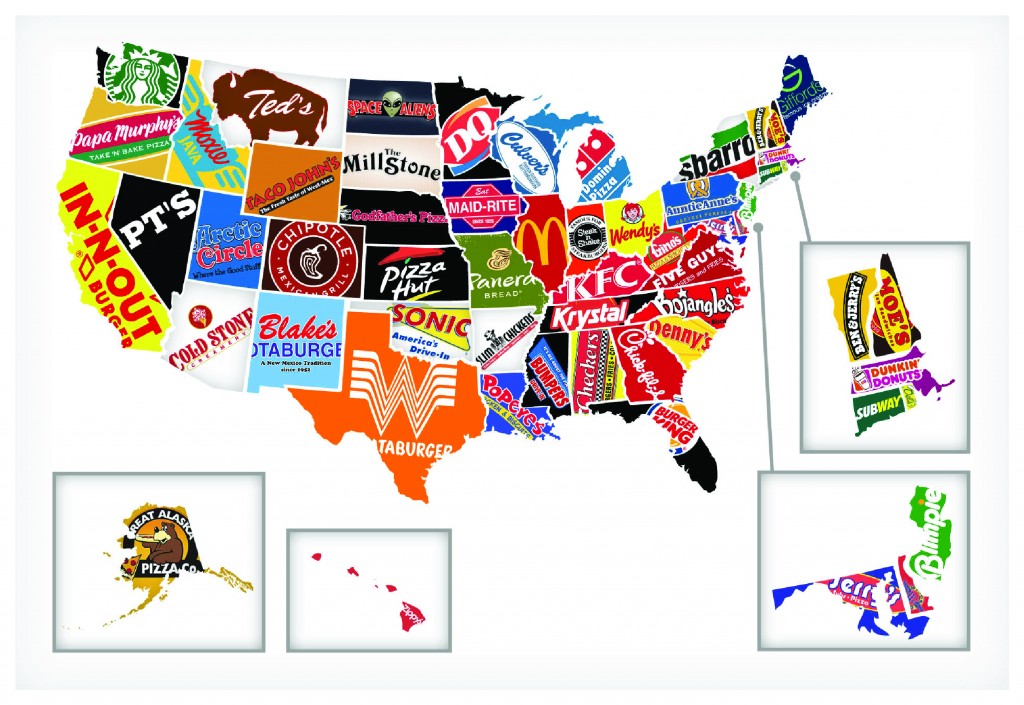 Despite this wildly contentious election, the state of our nation has been improving and continues to do so. The economy is steadily growing, unemployment is down, and banks are loaning again, but eight years out of The Great Recession where are we in the terms of the restaurant growth?
As the capital has once again begun to flow, people are opening restaurants, purchasing franchises, and frequenting establishments now more than ever in the last ten years.
But where are they choosing to put their money, and where are they choosing to spend their money?
The top 10 of the Top 100 Chains are a safe bet, housing the brands we are all familiar with – McDonald's, Starbucks, Dunkin Donuts, and Chick-Fil-A.
These are sales powerhouses and show no sign of slowing down anytime soon. McDonald's takes the number one slot by a landslide with $35.8 BILLION in sales, while number two, Starbucks clocks in with a comparatively meager $15.6 billion. 
But what's changing? What discernable shifts are taking place, opening up room in the top ten for formerly second-rate money makers? As restaurant consultants, this is what we're most interested in. For one, with Domino's surpassing Applebee's, 2016 marks the first year no casual dining chain was included in the top 10 highest grossing brands. It's not that Applebees' had a bad year, it's more accurate to say that Domino's had a great year.
Let's take a look at what this means for the restaurant business…
For years the public had to choose between speed of service and quality of food. That's no longer the case with limited service restaurants like Chipotle, Panera, B. Good, and Sweet Greens surging ahead. WIth these options you're no longer confined to either a lackluster hamburger via drivethru window or 45 minute sit down meal.
This is related to a familiar sentiment you've seen echoed on our blog before; quality. Consumers are craving simple, honest ingredients with thoughtful preparations, and they're willing to pay for it. As a nation we've become more focused on what we're putting into our bodies and where exactly that produce, poultry, meat, or fish is coming from. This has been the driving force behind quality focused food in an expedited time frame.
Consumers aren't ready to give up their McDonald's, Burger King, and Taco Bell just yet, as evidenced by their presence in the top 10 highest grossing chains. These are established brands where consumers will find a very expected product and service. Your quarter pounder isn't going to taste much different state to state and nor will the time frame in which you wait, or your general dining experience differ all too much. However, we are seeing tremendous growth is in lesser known brands such as Jersey Mike's Subs, Chick-Fil-A, and Wingstop. 
2017 will usher in continued growth in the brands and establishments that are serving tasty and healthful food in an expedited setting. We'll see more growth in the chicken sector, and continued shift away from casual-dining establishments in favor of limited service restaurants or independently chef-owned restaurants.
Looking for a more fine-tuned analysis? Contact us here at TRG Consulting for a free quote, and stay tuned to our blog for all things restaurant industry related.