Restaurant Design: Building the Efficient Commercial Kitchen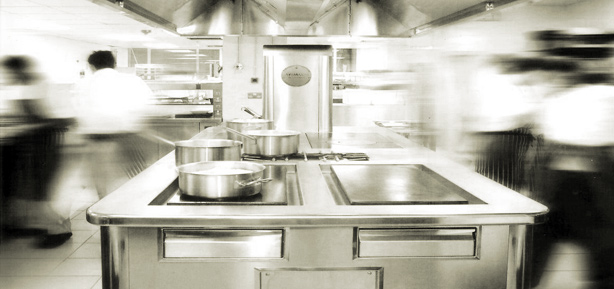 Your restaurant design is a reflection of your brand. From the front of house design to the back of house, your entire design plan needs to reflect your brand's personality, market position and mission.
Efficient Restaurant Design
Whether you have a large chain or one store, it's necessary to take every detail into account; from the store front sign to the table settings. The front of house design should reflect the style of your brand in its décor, also a large consideration should be paid to the construction of the service areas, to include the layout organization and efficiencies. If something looks beautiful but doesn't function well, your customers will be the first to notice.
The front of house design is an important part of your image, but the back of house is the heart of your operation. Poor commercial kitchen design cannot only decrease your productivity, but it will impact your bottom line in many ways from food waste to loss of business.
Proper Planning
Before you can design your commercial kitchen, you need a solid plan. For example, consider your inventory needs, health codes, the type of food will you be serving and how you will be serving it. Retaining a restaurant consultant is the best way to plan. A consultant can help you establish your menu and make the best use of your kitchen space to increase restaurant efficiency.
There are several areas of a commercial kitchen that need to be established and there are a few popular configurations for different styles of service. Each layout factors in the workflow which includes receiving, storage, food preparation, meal cooking, cleaning and washing, waste disposal and most importantly service. Whichever design you chose, remember to keep it flexible in case your menu options change, use commercial grade appliances and building materials. It is also critical that you create specific work zones that will provide your employees with maximum efficiency to complete their duties.
Popular Configurations
Depending upon what category your restaurant falls into, there are three main layouts you can use to increase food production time and employee communication. These are simple guidelines that are flexible and easily modified to fit your specific needs.
Assembly-line
Many fast food or fast-casual restaurants use an assembly line set up in their kitchens. if you are making many of the same types of food or using the same ingredients in different ways, the assembly line configuration usually works best. This format arranges the kitchen in order of materials used. There is usually a preparation area connected to a cooking area that hands off to a service area. In this setup, the cleaning and storage areas are behind the line. This design offers speed and the ability to process orders quickly without employees running between stations.
The Island
The island configuration is designed with one main block in the middle of the kitchen area where food is prepped and cooked. Most often you will find the cooking spaces with appliances and equipment in this area. On the outer walls surrounding the kitchen, you will find cleaning storage, food prep and service areas with a circular flow. The Island offers a good flow for workers to move around and better communication among employees.
The Zone
This layout is organized by blocks, placing major equipment around the walls. Like the other two models, this design flows in an ordered manner and allows for easy communication among employees preparing the food. It also provides more space in the center of the work area for employees to easily move to-and-from different stations.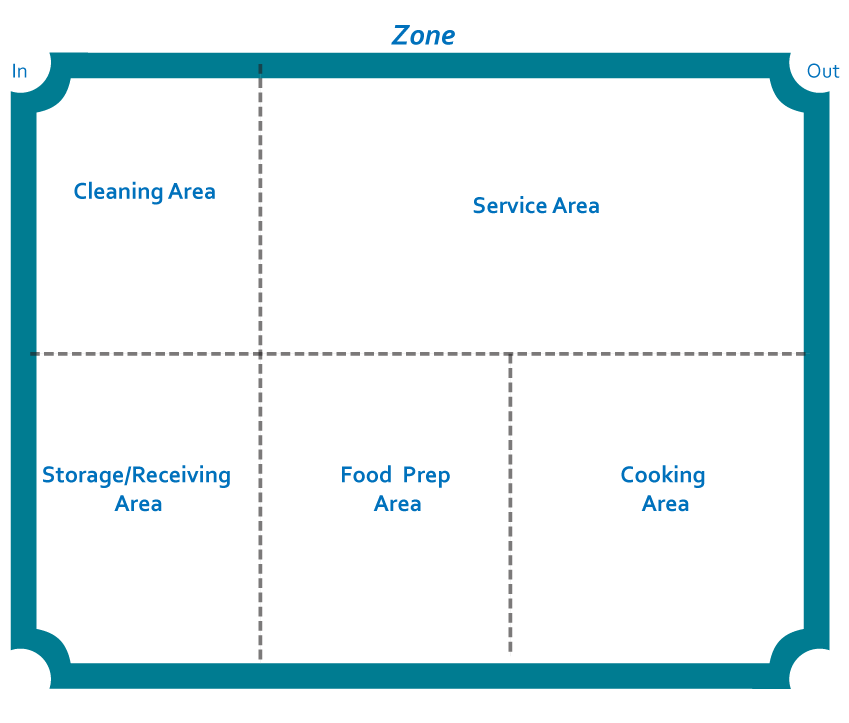 Always keep in mind that each of these designs can be modified easily depending on the equipment you use as well as the space and shape of your kitchen.
Other Considerations
Depending on where you are constructing your kitchen, you will find different local, state and county regulations. The planning and zoning restrictions vary from city to city, so you may not be aware of the required fire, electrical and plumbing codes. Additionally, you will need to apply for permits and licenses so it is important to know what you're doing before you begin your design. Restaurant consultants are specialists in this field of design, so using one to help guide you through the entire commercial kitchen design and build process, will often save you time, money and headaches, not to mention, help you increase your restaurant's efficiency and bottom line profits.
Contact TRG Restaurant Consulting for a free commercial kitchen design consultation.