Restaurant Operational Analysis for Restaurants
Let's face it, the statistics for restaurant failure are not all that encouraging. Various studies indicate that only 10 to 12 percent of restaurants will survive their first five years. Regardless of how you slice and dice the numbers, the restaurant business is a strong and growing part of the economy. According to IBISWorld, industry revenue will grow an annualized 2.5% to $97.8 billion between 2013 and 2018.
Capturing a piece of the market
The reality is that only restaurants that achieve operational excellence will be able to grab a piece of the business market, and conducting an operational assessment will show you where you are losing revenue, as well as the procedures and practices that are hurting your profitability.
Running a profitable restaurant requires operational efficiency. Every aspect of your business from location and services to suppliers, involves constant oversight and an operational analysis. As a restaurateur, there are critical aspects to consider. Whether you are a startup or an established business, you need to begin with defining your goals and then evaluating your strengths and weaknesses.
Know your market
A SWOT analysis helps you determine the strengths, weaknesses, opportunities and threats to your business. Most entrepreneurs conduct these frequently to stay competitive in the marketplace. Here is an example of what a restaurant SWOT analysis would look like: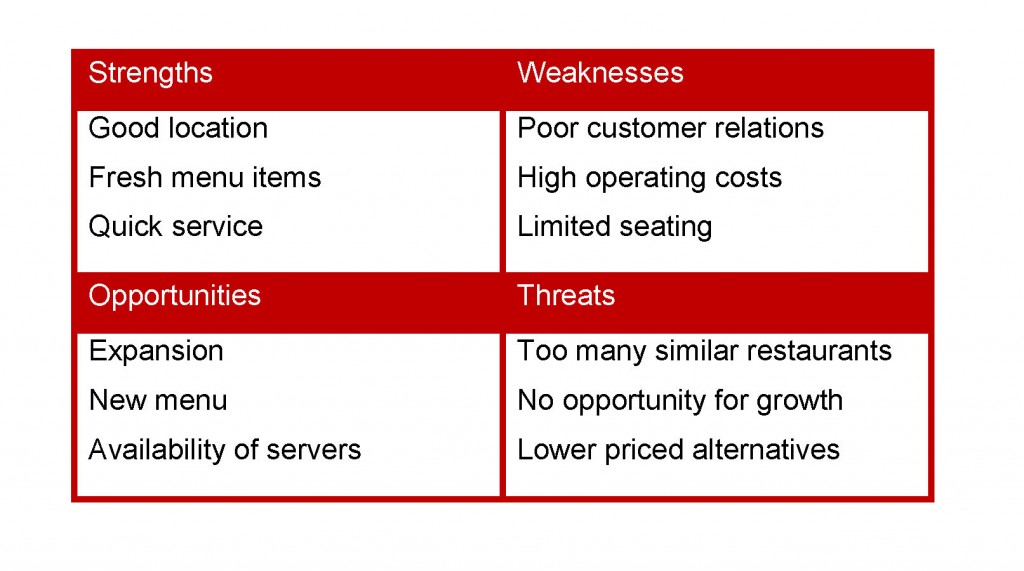 Creating long and short-term goals
Restaurant trends, technology and target audiences are changing at a rapid pace. Regardless if you are a startup or an established restaurant, you need to routinely access your business plan by defining long and short-term goals.
An operational analysis provides the restauranteur with an overview of menu choices, location, hours of operation, operational costs, technology and your entire staff performance from front-of-house to back-of-house. This assessment provides a snapshot of where your business stands now and where you will be in the next years. You will be able to proactively and immediately begin to eliminate inefficient practices and expand upon the areas of productivity and revenue generation. 
Location Evaluation
Where your restaurant is situated is probably the most important factor of your business. Does your target audience live or work in the neighborhood? Are you in a high-volume area? Is there a great deal of competition in the vicinity? Can your customers park? Is your space large enough? As the old real estate saying goes, 'location, location, location'! Diners rarely have time to wait for parking or drive far from their neighborhood. Additionally, being among other restaurants is not the big problem, it's where the competition is located that can be an issue. Along with location, your hours of operation could be a factor. Can you open early to catch those commuters or can you stay open late for the college students who want to eat later? Choosing a location is often the first step in opening your restaurant, so know the area well.
Review your menu options
Whether your restaurant serves fine dining cuisine or fast casual dining, your menu is one of the driving factors of your success. Knowing your customer's preferences will help increase traffic to your restaurant and decrease food waste.
Assessing the costs
Monitoring the bottom line on a regular basis is essential to your profitability. Are you buying your supplies from a vendor with high discounts or low prices? Are you getting value using the ingredients that comprise your menu? Is your staffing balanced for low and high-peak hours of operation? Is your rent too high? Finding the things that can reduce your overhead and improve productivity will enable growth and increase revenue.
Front-of-House and Back-of-House Staffing
Your staff can make or break you. In the restaurant business, good customer service is critical to your operation. Ensure your employees not only know what you expect but retraining them constantly and teaching by example is important. Mishaps occur, just remember it is how your staff handles them that will make the difference between a repeat customer and a bad review on Yelp.
An operational analysis is the only thing standing between the restaurant owner and profitability. Learn more about how an operational analysis works by taking a look at our  TRG operational analysis TRG operational analysis service page.