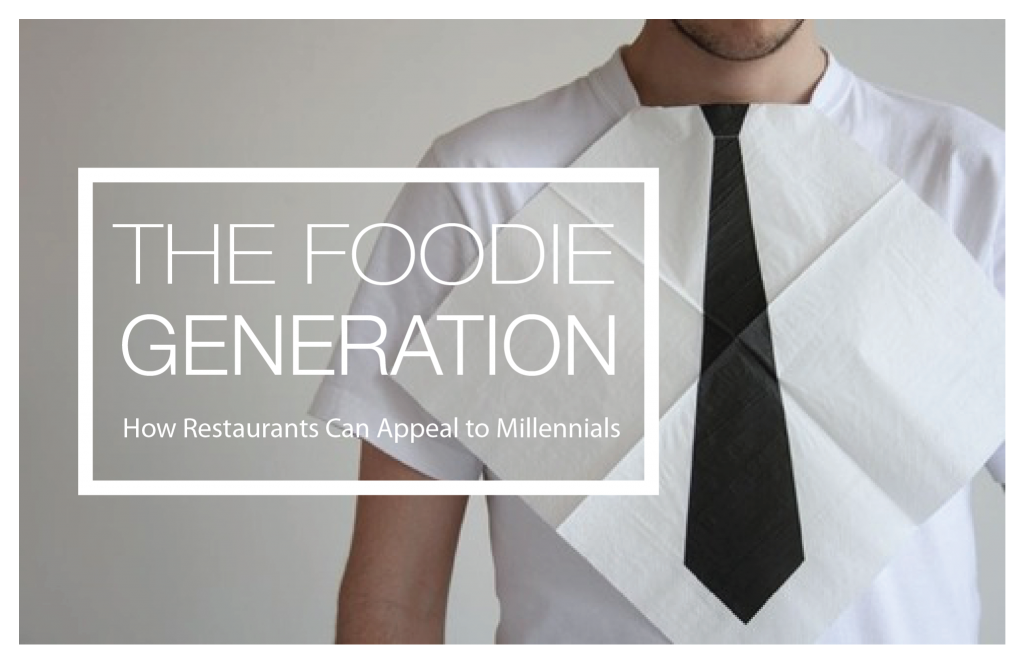 Millennials are the rising tide of the economy. This demographic, which ranges in age from 18 to 33 make up about one-fourth of the US population and spend approximately $1.3 trillion annually. Many marketers are vying for the attention of this group and for restaurateurs capturing their business is essential as millennials eat out more than any other generational demographic.
Who is the Millennial?
So what is the millennial looking for in a dining experience? To understand how to serve this customer you must understand what the millennial is looking for in a restaurant. There are key characteristics of this demographic that make them more unique than other generations. These customers value the relationship they have with the brand and they have particular needs to meet their lifestyle.
A taste for fast casual
The industry has expended a great deal of resources trying to understand this misunderstood generation. Recent studies indicate that while the restaurant chains fluctuate, categories are consistent; casual dining and fast casual industry establishments. Some of the notable chains in the casual category include Olive Garden, Applebee's and Chili's. In the fast casual sector, millennials embrace chains like Chipotle, Panera Bread and Pei Wei Asian Diner. Additionally, fast food franchises such as Subway, Jimmy John's and Jersey Mikes.
Health Conscious with Customization
The millennial wants fresh, healthy and artisan food. They may occasionally eat at McDonalds, but they consider most fast food as unhealthy. For the millennial, fresh food is healthy food and choice of having it their way is important. As a result, according to a recent Nielsen study, millennials are 74 percent more likely than average to visit Chipotle. The same study indicated that when it comes to fast food, the chain of choice is Subway because it is fresh and inexpensive. The study also concluded that 73% of millennials said they planned to eat at Subway again.
Socially Conscious
In the case of the millennial and brand relationship, the reciprocity principle applies in two areas. This generation is socially aware and they want to patronize companies who give back to the community and to their customers.
Companies such as Panera Bread and Chipotle have programs that donate heavily to good causes. Panera with its Panera Cares® community cafes provides meals to those who can't afford it. Through this program, the company also partners with other non-profits to offer job training.
The Chipotle Cultivate Foundation donates over a million dollars to non-profits that promote everything from food literacy to improving farming. Some of the organizations receiving money include International Rescue Committee's New Roots Program, The Kitchen Community the Ecology Center in Orange County. 
Social Media Conscious
The second part of the reciprocity principle applies to social media and brand feedback. Millennials, who are foodies will post their opinions online, with pictures. If the experience is good, you can expect them to sing your praises; a bad experience will be posted as well. As many restauranteurs have learned, Yelp can either boost your business or kill it. The by the Pew Research Center reported that 87 percent of online adults in the US aged 18 to 29 use social media sites. So you can expect that they turn to their friends on social media for recommendations on where to eat.
Technologically Conscious
It goes without saying that the millennial is the most tech-savvy of all generations. According to Nielsen, more than 85 percent of millennials in the US own smartphones. Millennial need to connect to restaurants via their smartphone to make a reservation, place a takeout order or find a promotion or pay online. Additionally, free Wi-Fi for this group is a necessity, not a luxury.
Beside the characteristics listed above, it is also noteworthy to mention, millennials expect value because they can and do use technology to find the best deal. Moreover, these busy people eat on their time schedule. They seek breakfast at lunchtime and enjoy late night dining.
Restaurant chains of all sizes and types are catering to this foodie generation who is the largest group of people who dine out regularly. It is critical to the food industry to understand and embrace this demographic like never before in order to be successful entrepreneurs.
Sources: Nielsen, bcg.perspectives, Food, Drink and Franchise, Pew Research Center