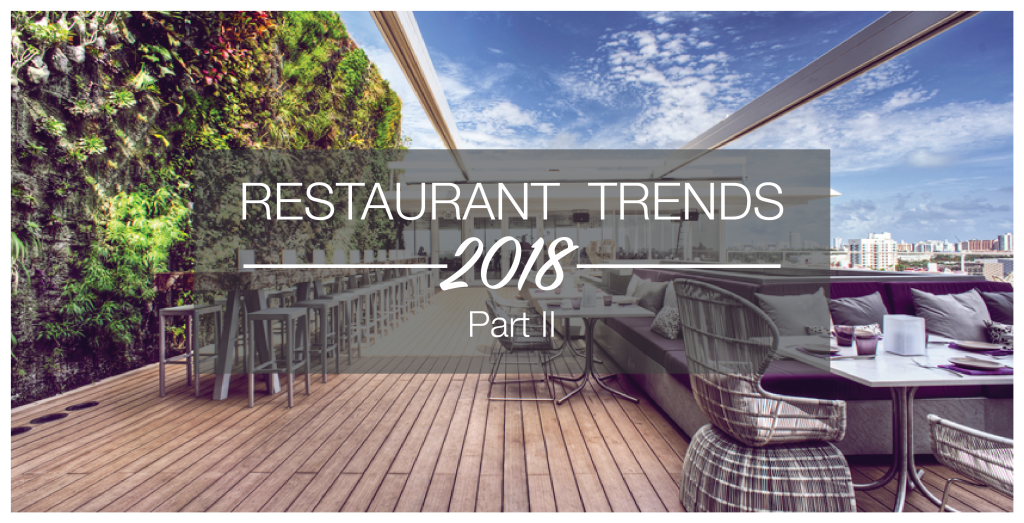 2018 Restaurant Trends (Part 2)
The restaurant industry is constantly evolving and changing, from marketing to delivery, to service – each segment of the industry has experienced a massive shift. This will continue throughout 2018 and for restaurants to succeed, it is important to keep an eye on what trends are emerging in 2018. Here is part 2 of 2018 Restaurant Trends:
6) Upscale casual atmospheres will be on the rise
Restaurants will need to balance upscale options with casual ambiances going forward as that trend seems to continue full-steam in 2018. While casual upscale dining might sound a little contradictory, it does not need to be.
Restaurants should focus on striking a balance between premium ingredients and offerings while retaining a level of casualness in terms of the restaurant atmosphere itself to provide customers that experience. This could extend to keeping bookings and reservations somewhat casual and allowing for more walk-ins, or with its decor and music choices.
7) Greater focus on aesthetics
In a world driven by social media marketing, restaurants must absolutely focus on the aesthetic value of their food. While that does not mean that quality or innovation needs to take a backseat, but there must be a greater emphasis on presentation and looks of the dishes themselves.
With more users embracing visual platforms such as Instagram to document their experiences, restaurants must consider how to incorporate that into the overall dining for customers.
8) Healthy options for children
With so much focus on the millennial market, many restaurants have overlooked how to make their dining healthier for adults and children. That demographic holds a significant market share, so it is crucial that they are not left ignored.
With the increased importance of healthy food and diet, restaurants should also look for ways to provide children with healthier and creative food options. Parents will appreciate the effort, and that will go a long way in building long-term loyalty.
9) Local wine, beer and alcohol pairings
Alcohol is an important part of menus and many customers enjoy having a local feel with both their dishes and the alcohol they choose to pair it with. For 2018, restaurants should research and look for local options to provide this part of the experience and really innovate on how to showcase the best of what the area has to offer.
Whether it is partnering with local distilleries, wineries or breweries for long-term menu inclusion or even designing pop-up events to showcase local alcohol with food pairings, there are many ways to get creative with this.
10) Greater inclusion for those with dietary restrictions
Many restaurants have dragged their feet when it comes to updating menus to accommodate different dietary restrictions. However, many customers are increasingly choosing to go vegan, vegetarian, and gluten-free – just to name a few and that means restaurants must adapt accordingly.
Consider taking a look at menus that have not been updated for a while to see where these options could be fit with existing options. Or consider adding new dishes that will be appealing to this new set of customers and how you can create a great experience for them where other restaurants may not be able to.
Contact TRG for your restaurant consulting needs.